Beth Wenstrom is a dynamic performer, taking her skills as chamber musician, soloist, concertmaster and orchestral violinist around the US and internationally with a variety of ensembles. She has been praised for her "vitality and eloquent phrasing, as well as agility" (The Strad) and The New Yorker has described her chamber performances as "elegant and sensual, stylishly wild." As a soloist and concertmaster, Beth has performed with Trinity Wall Street Baroque Orchestra, Sebastian Chamber Players, New York Baroque Incorporated, Baroque Orchestra of Maine, Quodlibet Ensemble, as well as the Washington National Cathedral Baroque Orchestra. She has also appeared in the Boston Early Music Festival Orchestra, Apollo's Fire, Orchestra of the Age of Enlightenment, TENET as well as other ensembles. Beth is a founding member of Wayward Sisters, winner of the 2011 Early Music America/Naxos Competition and a founding member of the "eclectic and electrifying early-music ensemble," ACRONYM (Boston Globe).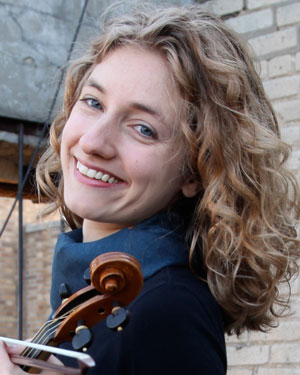 Beth loves recording with artists such as children's singer-songwriter Justin Roberts and film score composer Evan Wilson.
In addition to her performance career, Beth is a committed and enthusiastic pedagogue. She has an ongoing role as string coach for the baroque ensemble at SUNY Stony Brook, and has taught at Oberlin Conservatory in a number of different roles. In 2014 she filled in for Marilyn McDonald as a sabbatical replacement, teaching both modern and baroque violin. Since 2017 she has returned regularly to Oberlin to conduct and coach the Oberlin Baroque Orchestra, leading from the violin. Beth also teaches often at Oberlin's Baroque Performance Institute and at the Amherst Early Music Festival.  Additionally, Beth has coached baroque ensembles at Rutgers University, the chamber orchestra of Cornell University, and given masterclasses at colleges such as Vassar College and Muhlenberg College.
Born, raised and musically trained in Fairbanks, Alaska, Beth holds degrees from Oberlin Conservatory (BM), New England Conservatory (MM),  SUNY Stony Brook (DMA) and The Juilliard School (Graduate Diploma). Her principal teachers have included Marilyn McDonald, Lucy Chapman, Pamela Frank, Soovin Kim, Cynthia Roberts and Monica Huggett.